Want Better Sex? It's As Simple As Spelling 'Coconut'
The coconut sex position is taking the internet by storm. But what exactly is it?
---
---
It's gone viral on the internet, even reaching meme status. So what's the buzz? The secret to great sex is spelling 'coconut' with your hips, apparently. What originated as a Facebook post on the Kilimani Mums Udaku Zone Facebook group has gone viral with the internet sharing their findings of the "Spell Coconut" sex position – with mixed and often hilarious results.
Related: Take These 4 Sex Positions From Average To Amazing With These Workouts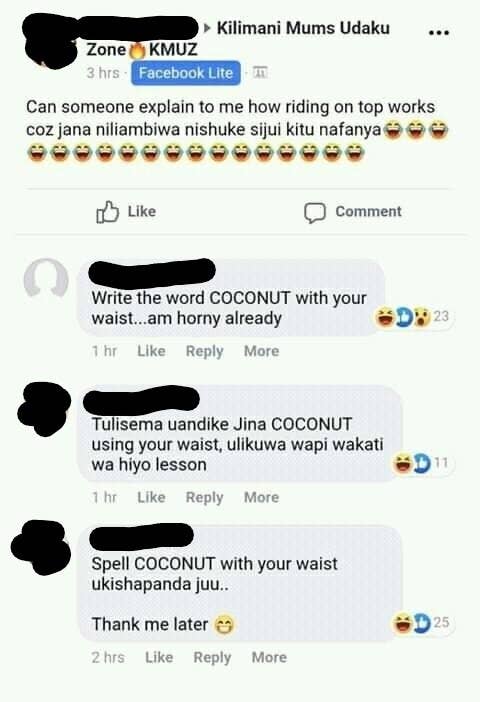 As the thread suggests, make sure she's on top and then get her to spell the word "coconut" with her hips. Just tell her to be gentle, for fear of penile fractures!
Related: The Sex Position Most Likely to Break Your Penis
If you're up for a laugh, head over to Twitter and type in "coconut sex" in the search bar.
Having sex with a girl last night and she just kept spelling coconut out loud, strange behavior

— Robbie McDonald (@Robbiemcdon) July 17, 2019
Currently lying in bed, it's 12:21am and I'm spelling COCONUT with my waist while my boyfriend lays sound asleep next to me.. little does he know, morning sex is about to be lit. ? thanks girl pic.twitter.com/N2LFDA68dz

— chocoLATAY (@goddessofnaps) July 16, 2019
i yelled coconut during sex and he thought it was weird im never taking advice from twitter again

— ????? ????????? (@ariesgodmother) July 18, 2019
Better yet, give the coconut sex position a try and let us know how it went down via our social media channels!
READ MORE ON: sex tips