Dreaming Of A Holiday? Check Out These 9 Eco-Friendly Destinations in SA
We're going to show you how to make a green getaway.
---
---
First of all, what exactly is eco-friendly tourism? Well, mainly it focuses on conservation, empowering communities and travelling sustainably. Secondly, where on earth can you head for an earth-saving holiday? And is your only option for eco-friendly destinations a commune with tree-hugging hippies? Not at all! These 9 eco-friendly destinations will surprise and impress even the biggest sceptics. We're going to show you exactly how.
Related: Make Your Holiday Road Trip Eco-friendly With These Sustainable Products
Make a Green Getaway With These Eco-Friendly Destinations:
1. The High-Tech House
Off the grid doesn't mean off the beaten track. Men's Health's very own Multimedia Journalist, Megan Flemmit got to enjoy the high-tech, low-impact escape that is theLAB guesthouses and this is what she had to say:
Imagine having your coffee prepared before you set foot out of bed. At theLAB guesthouses, you don't have to imagine. Each room is fitted with the LivinAfrica Box, which is a sophisticated and locally designed room-automation system. Ask Echo to turn off the lights, turn on the music or open the blinds from the comfort of your bed. You might be tempted not to leave.
But theLAB's innovation goes beyond its high-tech facilities. Each guesthouse operates with an eco-conscious ethos. Your room's automation system switches off heat, lighting and power when people leave, minimising the amount of power used. Each room is fitted with Philips Hue lightbulbs. Not only are these smart bulbs energy efficient, they provide the perfect ambience, regardless of what you're doing. The lights can be controlled with your voice or hooked into an alarm system that will brighten and dim them to mimic the sunrise and sunset. Plus: change the light colours to suit your mood.
Each guesthouse is stocked with TheraVine and Owl's products, which are both friendly to nature and in an effort to curb plastic consumption, the guesthouses use only glass bottles. Stay hydrated, all while helping the environment. Plus, roofs are fitted with solar panels, decreasing the facilities' reliance on non-renewable power sources.
Related: Electric Cars In SA: We Investigate The 4 Major Challenges Faced
What's more: if you're one of the eco-conscious few who owns an electric car, you can charge up at any of theLAB guesthouses thanks to the solar-powered free electric car charging station before moving on. For the rest of us, you can minimise fuel consumption by hiring one of their bikes and E-scooters to experience the neighbouring farms in Franschhoek and Robertson, or take in the sights of Hout Bay.
The guesthouses are all situated in picturesque towns away from the bustle of the city; choose between Franschhoek, Robertson and Hout Bay.
Book at: thelab.africa
2. The Luxury Eco-Reserve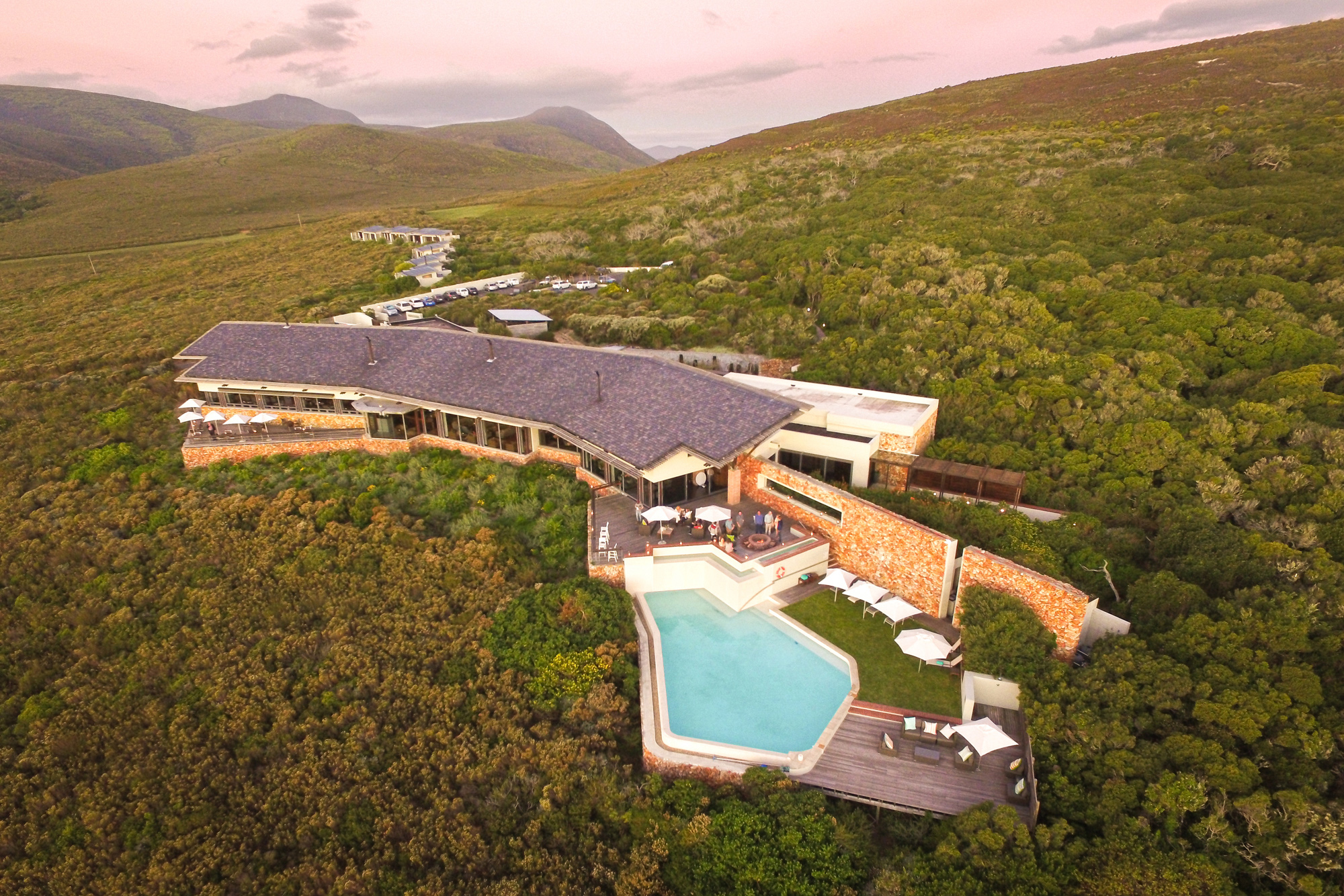 Grootbos Nature Reserve is your natural, no-BS, hippie-free hideaway. The creators of Grootbos Nature Reserve don't just conserve the environment; they are actively ensuring that they support and build their ecosystem by pioneering new paths to do so. From the mountain spring water that you drink while on the reserve to simply staying there, you'll be uplifting the surrounding community and local small businesses.
Last year, over 7 000 community members benefited from different Grootbos Foundation initiatives. It's this effort to place conservation and community at their core that has led to their world-class collection of curated experiences.
From botanical 4×4 tours, shark-cage diving and horse riding to whale watching, quadbiking and fatbike tours, there won't be a single bored or uninterested traveller in sight. And you'll eat like a king while doing all of this: a lot of the food that they serve is grown right there on the reserve. Their fresh organic produce is then prepared by their very experienced culinary team.
Choose between the Garden Lodge, Forest Lodge or private villas; each has something different to offer. Best part? You can curate your getaway based on the kind of trip you want, and they also provide suggested itineraries.
Book at: grootbos.com
3. The Green(er) Getaway
Go beyond to andBeyond Phinda Forest Lodge. And yes, we hear you – forests are pretty damn green and eco-friendly already. But it's not all about compost toilets and grey-water veggies: the way your favourite holiday house has been constructed can have a negative effect on the environment, too.
So finding an eco-sensitive destination that's been built with as little impact on the environment is rare; and Beyond's "Zulu Zen", one of the world's first eco-designed luxury lodges, takes it to a new level. The suites are on stilts, which not only creates spectacular views but means the forest floor isn't disturbed as you float above it. Bonus: you get to live out your Tarzan dreams while dwarf forest antelope dash around and under your suite, taking the greenness of these eco-friendly destinations to a whole new level.
Book at: andbeyond.com
Related: Your MH Must-Do Bucket List Of Virtual Home Entertainment
4. The Carbon-Neutral City Escape
City slickers rejoice, you don't have to head into the great outdoors in order to get on the clean green wagon. Hotel Verde Cape Town Airport was the first hotel in Africa to offer 100% offset carbon-neutral accommodation. And you'll get a certificate to prove that you stayed at one of their eco-friendly destinations, too!
Between the 220 photovoltaic roof panels, three wind turbines and energy-generating gym equipment, you can leave dirty energy in the dark. Because they are working towards a zero-to-landfill goal, 98% of their waste is reused, repurposed or recycled. Of course, grey-water systems, dual-flush toilets and rainwater collectors keep the eco-friendly features flowing.  Finally, check out the roof garden, 475-plant food garden, wetland, eco-trail, eco-pool, gym and two beehives housing 60 000 Cape honey bees.
Book at: verdehotels.com
5. The Clean-Air Cabins
Flushing the toilet with a spadeful of sand doesn't quite sound like luxury accommodation. But that's exactly how the Oudebosch Eco Cabins feel, says Kieran Legg, Contributing Editor at Men's Health. This is what else he had to say about his visit:
Situated in the Kogelberg Nature Reserve (just a two-hour drive from Cape Town), your cabin is one of five huddled in the shadow of the Kogelberg mountains. They each have their own names: Erica, Fire Lily, Marsh Rose, Iris and Everlasting Daisy. They sound like a group of enthusiastic fire dancers you'd run into at AfrikaBurn. But the pyrotechnics start and end with the cabin's wood stove, which is stacked with slow-burning logs to keep you warm. Wood is a carbon-neutral fuel, which means it doesn't add extra carbon dioxide to the carbon cycle. Simply put: it's an eco-friendly way to stave off the winter chill. It's just one of many ways these cabins have been built to minimise impact on the environment.
The roof is planted with local flora for insulation. A solar panel powers the geyser. In the shower, water trickles down between wooden boards and is absorbed by the ground underneath. And yes, there's a waterless toilet – but it doesn't smell (even after a few days). When occupied by a full group (each cabin can house four visitors), these structures use less than two kilowatts of electricity per day. Just for comparison, the average household can burn through fifteen times that amount in the same 24 hours.
On your first afternoon, go for a hike through the reserve. You'll walk up into the mountain range, past gurgling streams and through dense wooded areas before the path flattens out at the top of the valley. The hike is challenging in parts – particularly when you're clambering over boulders to a point where the overgrown trail resumes – but the view from the top makes it all worth it (just pack a big bag of trail mix to stay fuelled; you can easily kill eight hours up there).
Related: Hiking Snacks: 7 Of The Best Superfoods To Take On Your Next Trip
Back at the cabin, take the "eco" shower for a test drive. Just like the wood stove and water-less toilet, it doesn't feel like a downgrade – it feels right. The water is steaming hot, and knowing that those piping temps were simmered up by the sun throughout the day makes you feel less guilty for taking a few extra minutes to savour the sensation. Sitting in the lounge, craft beer in hand – a golden ale from the Garden Route – and a crackling fire a few centimetres from your feet, you'll be content. There's no TV blaring in the background or WiFi connection feeding endless information to your phone. You'll power down – literally. But it'll feel like you've taken a step up, something that all the eco-friendly destinations in this list can offer.
Book at: capenature.co.za
6. The Shore-Win Beach Getaway
You can soak up the sun without damaging the environment at the beach, something you don't see too often with eco-friendly destinations. Thonga Beach Lodge on the Elephant Coast is a great choice for a romantic getaway as it was voted most romantic beach lodge accommodation on the Elephant Coast. And the luxury lodge certainly doesn't skimp on the, well, luxury.
You'll be right on the beach but it's been designed to be in complete harmony with the environment; the suites are on wooden stilts to avoid damaging the dunes. The beach of Mabibi is unspoilt and one of the cleanest beaches in the world, as it stretches within the protection of the iSimangaliso Wetland Park. The snorkelling right in front of the lodge and by boat at nearby safe coral reefs is world-class, and you could catch a glance of turtles and dolphins.
But perhaps the biggest reason you would want to head to Thonga Beach Lodge is because of its involvement in protecting the loggerhead and leatherback turtles. Turtle nesting sites start right at the lodge and stretch further up the beach.
Book at: thongabeachlodge.co.za
7. The Green Game Reserve
Get your green game on. As a Men's Health Features Writer, I stayed at Thuleni Homestead and found out just how incredible eco-friendly destinations can be.
As the sun rises over the plains of Manyoni Private Game Reserve, we're a few minutes late for feeding time. And the noises coming from a container – sounding more like a whale than a land animal – ensure we're well aware of it. Approaching the pen with caution as they open the doors, I see a figure far larger than I imagined bounding over; a baby rhino.
At just a few months old it's easy to look directly into his eyes without much bending as he suckles on a home-fashioned two-litre milk bottle. This is the Zululand Rhino Orphanage, just one of the many conservation initiatives Manyoni implements. It's in the heart of Zululand in KZN, and was initially formed when 17 landowners dropped their fences to create one protected area for wildlife. One of the major driving factors was that it was chosen as a potential release site as part of the WWF black rhino expansion project.
Since it was established, the reserve has reintroduced lions, and endangered cheetahs and African wild dogs. And when I visited this conservation hub they were busy introducing more hyenas. But as much as Manyoni prioritises conservation, they are also one of the premier big five safari destinations in KZN, and it's not hard to see why. They have several lodges, houses and camps, but the real winner is Thuleni Homestead.
Related: 7 Reasons Mauritius Is A Great Holiday For Active Travellers
The floor-to-ceiling glass means you get unmatched views over the watering hole that's just a few metres away. Or you can watch the giraffe, warthogs and antelope that spend their days at the watering hole while lounging in the pool. This unfenced bushveld hideaway (except for a single-strand elephant fence) means the wildlife can get up close and personal. Rhinos have been known to walk right up to the deck. Plus, you'll get two game drives per day.
But beyond the game-viewing, this lush bush home is pure luxury. Local artisans made the stone walls, and the pillars were upcycled from a Bela Bela dairy farm. It's a place that honours the environment around it so you really can sit back, relax and enjoy the view.
Book at: perfecthideaways.co.za/accommodation/thuleni-homestead
8. The Luxurious Conservation Project
Not content with rehabilitating 38 overgrazed cattle farms and turning them into the biggest privately owned reserve in southern Africa, then restocking it with game, including the endangered wild dog, rhino and cheetah, Tswalu in the Kalahari is also committed to Fair Trade tourism principles, making it one of the best eco-friendly destinations. Everything they do is centred around their creed: to leave our world better than how we found it.
"Tswalu is a conservation-in-progress. Damage caused by previous, farming endeavours is being repaired, with fences and structures being removed, and natural processes are being restored. Tswalu's national and regional importance as a habitat was acknowledged in 2014 when it was designated as a formally protected area," they say.
Plus, they've partnered with WildEarth, the safari experts who stream wildlife action and animal encounters direct from the field, to bring you twice-daily live and interactive safaris, every day. So you can enjoy a game drive without leaving your couch.
The real winner here though, is the accommodation which doesn't skimp on going the extra mile to ensure you have an enjoyable stay. They house a maximum of 32 guests over two properties so you'll feel like you're the only ones experiencing the magic instead of over-crowded experiences with 50 vehicles trying to see a single sighting. This is one for the bucket list for sure.
Book at: tswalu.com
Related: Our Top 5 Local Holiday Destinations That Are Perfect For Winter
9. The Community-Uplifting Camps
Last, but not least on our list of eco-friendly destinations is Madikwe Game Reserve. Madikwe was once kilometres of overgrazed farmland until it was transformed in 1991 into a 75 000-hectare reserve. Within a period of six years, some 10 000 animals were again roaming the plains in what was dubbed Operation Phoenix, the largest game translocation in the world.
Buffalo Ridge Safari Lodge is the first wholly-owned community safari lodge to be developed in South Africa. It contains 8 luxury, thatched chalets and every suite has sliding doors in each room that open out onto their own private viewing deck. So you can spend your days viewing game and your nights gazing at stars.
Thakadu River Camp is also owned by the local community and is an an ecotourism partnership between the Molathedi Community, aha Hotels and Lodges and the North-West Parks Board. It's a tented safari camp made up of 12 en-suite, tented suites, each with their own private viewing deck overlooking the Marico River. It doesn't get much better than that, does it?
Book at: madikwe.info
PHOTOGRAPHS: SUPPLIED, THULENI HOMESTEAD_PERFECT HIDEAWAYS_LAR PHOTOGRAPHY, JARED RUTTENBERG, ANDBEYOND.COM
READ MORE ON: eco-friendly holiday holiday destinations inspiration local South Africa weekend